Introduction
Qualification: got a license certified by Japan Kimono Education Association, in April, 1997
Experience: Kimono dressing teacher at Naganuma Shizuka Kimono School,
Offering Services: one-on-one lesson of Kimono dressing, Kimono dresser at beauty parlor.
I have about 20 years of experiences of Kimono dressing and teaching, and still continue to study and research about Kimono, to improve my own technique, to back to basics so that I can always offer better services to my customers. I am so proud that my long experiences of Kimono dressing enables me to offer Kimono dressing services in best fitting way in accordance with each costumer. To reduce the burden of cust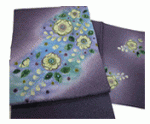 omers, I started on-site services of Kimono dressing at your home and/or event venues such as ceremonial halls, etc., at relatively lower cost.
Our motto is "Dressing you with Kimono in best fitting way", beautifully sustaining a form in Kimono not losing its shape for a long time.
We provide our on-site services for Kimono dressing mainly around Hachioji city (other areas are negotiable).
Experiences of Kimono dressing
Kimono school teacher, Kimono dressing at photo studio, dressing services for hostesses at a bar or club in Ginza
Now, offering Kimono dressing services at beauty parlor shop, lesson teacher at Kimono shops (drapers), Kimono stylist, make-up artist, etc.
★Please do not hesitate to contact us.
★Merits★
No need to bring a set of Kimono (a set of Kimono is bulky and heavy to carry)
Lower cost for Kimono dressing
Ensured technique of Kimono dressing with a certified license of Kimono dressing teacher or technician
Hair set is also available at your home, which helps women who should take care of little children or elderly person at home

「KITSUKE-YA」, Komon-cho, Hachiouji city
   090-8046-1476 Kyoko UENO